We all have those old shirts we never wear, but also can't get rid of...
The goal is to give those shirts a second life by altering them into a pocket or patch for a new article of clothing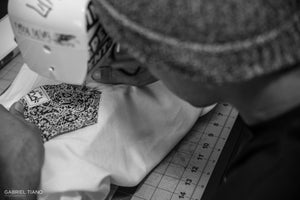 Skater Owned & Sewn
From cutting up donated old shirts, to sewing and designing, everything is done from our small shop in Vista, CA.
Treasure to Trash & Back Again
Sometimes, we associate a certain memory or feeling with random sights, sounds, physical feelings, or even physical objects.  Some shirts even hold some sentimental value, I feel many people have a shirt they refuse to throw away regardless of how dirty, torn, or destroyed they are.
Why is that?
Because there is something about that shirt you just straight up love.  So why not find a way to breathe some new life into that old rag? Don't throw it away, send it to us so we can give you back your favorite mustard stained Dale Earnhardt shirt as a new pocket t-shirt, that your girlfriend wont be ashamed to be seen with you in.